Is your computer lagging?
Is your computer speed slow?
Is your computer boot time longer?
If your answer is YES to the above questions then don't worry you have come to the right place, I am here to help you.
Window 10 is one of the most optimized versions of windows ever but still there are many reasons which can make your pc slow and will also reduce the boot time. Therefore in this article, I will tell you about how to speed up Windows 10 so keep reading this article, and at the end, I am sure you will thank me for this amazing guide.
Note: I will not use any paid third party software, all these methods are free and tested on my own computer.
12 Easy ways to make your PC faster
I know you are eagerly waiting for the methods so let's jump straight to the method without wasting too much time.
Check Power Plan Setting
By default, our windows power plan is set to Balanced or Power saver mode, because if it will be saved to this mode it will consume less power of your computer.
My suggestion is if you are a desktop user then there is no meaning in keeping the power plan to power saver mode change it to High-Performance mode.
But if you are a laptop user then you can use a little trick, change the power plan to high performance if you are connected to a charger, and change again to Balance Mode if you are not connected to the charger.
Let's see how to do this:-
Type "power option" in the search bar located at the bottom left corner of the screen and press enter.
Select High Performance from the shown list, if you are not able to see this option then click on the "Hide additional plans" and select it.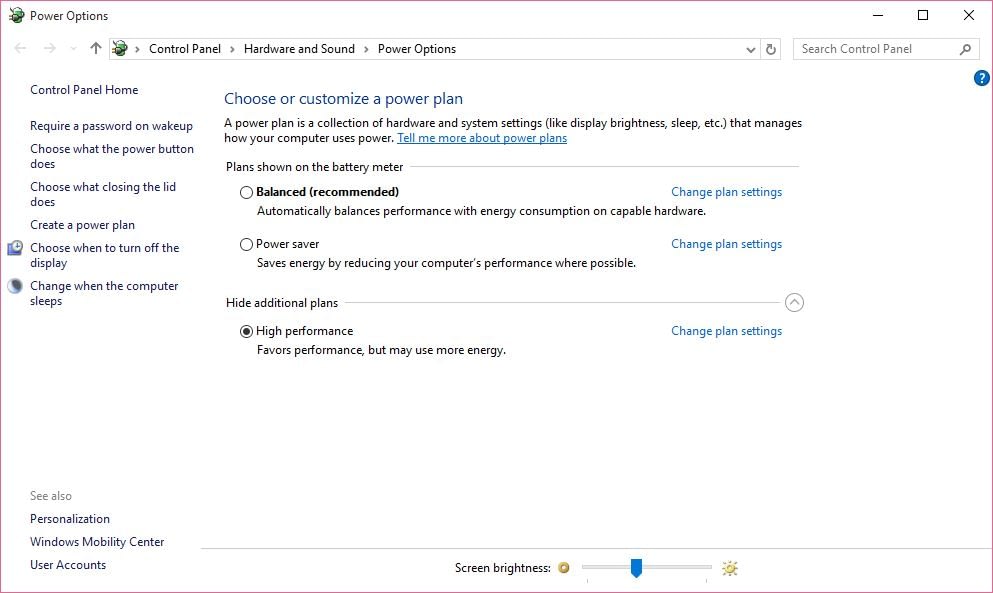 Disable Startup apps
There are some applications that start automatically when you start your computer and remain running in the background till your computer is on. They consume space and creates pressure on your pc.
Some of these applications are such that you have never used them. And some that you will never use it. Therefore it will be good if you will disable it.
You will need to use Task Manager to do this task.
Suggested Read: [ Disable Startup apps to reduce internet speed. ]
Let's see how to do this:-
Press Ctrl+Alt+Del altogether to open the Task Manager.
Navigate to the startup tab and click it, you will see the list of apps that are running in the background.
Now it is the final step, disable those apps which you think are not necessary to run in the background. It will depend on the use and priority of the user. I will highly recommend not to disable the antivirus or windows defender apps.
This process will also reduce the booting time of your computer will increase the speed of windows 10
Defragment and Optimize Drives
Use this method only if your operating system is installed in HDD or Hard Disk Drive, and if your OS is installed in SSD or Solid State Drive then you can skip this step.
But In case you do, it will not cause anything serious to your SSDs, but defragmentation will Wright unnecessarily data to your SSD, And Windows 10 itself does defrag your SSD's automatically in certain periods. So it is no big deal if you're accidentally done it.
If do you want to know the health of your hard drive click here to read the post and check how your hard drive is performing.
If you are using a conventional hard drive, definitely follow this step, because your mechanical drives need defragmentation.
Because on a regular hard disk, data is stored in different sectors on the platter, and mostly the reading head had to reach to multiple locations on the platter to read a single file, they belong to, so the read head doesn't have to move to different locations to read a single file, may result in faster load times, an better performance.
Let's see how to do this:-
Type "defragmentation" in the search box and press enter.
Select the System Drive (in which OS is installed) by default it is a C drive.
Finally, click on the optimize button.
You can also schedule this optimization on a weekly, monthly, or on daily basis. Click the change setting button as you can see in the above image and select duration and click on OK.
After doing defragmentation speed of windows 10 will increase dramatically.
Delete Unnecessary Temporary Files
When you installed any software then this software creates some temporary file and windows save these files on the TEMP folder.
As this name itself suggests it is a temporary file, some system application or third party application remove itself it but there are still some of them which need to delete manually.
The traditional method to Delete Temporary files:-
Repeat the below method for %temp% and temp separately.
Open the run dialogue box and type %temp% or temp and press enter.
Select all files by pressing the Ctrl+A button and press the Shift+Delete button to delete all files permanently.
Modern Way to delete temporary files:-
Open Computer Settings.
Click on the System > Storage > Select your drive in Which OS is installed (by default C drive)
Select the temporary files and delete them.
However, deleting temporary files will not increase too much speed of windows 10 too much but will increase a little bit.
Disk Cleanup
This window utility is beneficial, and it is still doing its job very perfectly. It is beneficial in deleting junk files, it can also delete temporary files and free up your space.
I will recommend you to use this method once a month or fix your schedule.
Let's see how to clean some more space:-
Open This PC that is located in Desktop or in File Explorer.
Right-click on the hard drive in which your OS (Operating System) is installed and click o properties.
Navigate to the "General" tab and click on "Disk Cleanup" and follow the steps.
You can repeat these steps for the rest of the partition of the hard drives.
Reduce Run Time Services
You can also use this step to disable the run time services. It will also increase the speed of windows 10 to the next level.
Let's see how to do this:-
Type msconfig in the run dialogue box and press enter.
Navigate to the Services tab and check the "Hide all Microsoft Services".
You can all select or unselect the services which you want to disable or keep. Therefore, look for your priority.
However, if you don't know which one to disable or which one to not then simply click on Disable All button and click on Ok.
Modify Privacy Settings
There are many features of windows which we not use and after disabling all these services we can see significant improvement in the speed of the computer system.
Let us see what are these features which we can disable in our privacy setting to achieve some extra amount of performance.
First Go to Settings > Privacy to open privacy settings.
Turn of the "lets apps use my advertising ID for experiences across the apps" under the General section.
Disable the "let websites provide locally relevant content by accessing my language list" under the General section.
Go to the Location Section and Turn Off the location.
Now Go to the Camera Section and see which of the app you can disable according to yourself.
Now Go to the Camera Section and see which of the app you can disable according to yourself.
Now Go to the Microphone Section and see which of the app you can disable according to yourself.
Go to the Contact section under the Privacy setting and you can disable the access of all keeps except mail and calendar.
Similarly, You can disable Calendar.
I will also suggest you disable some background app that you think not necessary for you. Background Apps are those applications that run in the background and gives you notifications, update information, etc.
Remove or Delete Bloatware
Windows comes with pre-installed software and you think that these apps are not useful for us and you know by removing these apps will not cause any damage to use then I will suggest you uninstall this software.
The same goes for the software which you have installed by yourself and if you think this is no longer need for you then please remove it free up some space.
Use the control panel to remove unwanted software. Read this guide on how to remove the software from the computer.
Do Registry Tweaks
By doing some changes in the registry of your computer you can make its performance much faster than before.
Believe me, it will not harm your computer in any way.
You can open your registry editor by typing regedit in the Run box and press enter. When the registry editor has opened then follow the below steps:-
Click on HKEY_CURRENT_USER.
Then click on Control Panel and select the Mouse. It will open a list of files in the right pane.
Change the value data of mouse hove time from 400 to 10.
Similary, Click on HKEY_CURRENT_USER > Control Panel > Desktop.
Now again you will see the list of files in the right pane, select the file name MenuShowDelay and change its value data from 400 to 10. That's it.
You can read this article to do the registry tweaks with the help of a script.
Disable Transparency of Taskbar, Start, and Action Center
Windows 10 is a very cool dude type of operating system, due to its look and appearance it is loved by many users.
But this look and appearance use some resources and if you want to save some extra resources then you are free to use this setting.
Open Window Setting by pressing Windows Key + I altogether.
Navigate to the Personalization > Colors
Turn off the Make Star, Taskbar, and action center transparent button. That's it.
Empty Recycle bin
I know, I know, it is not the IT's hacks but it is one of the most important points of which you should take of it.
Many people don't empty their recycle bin and whenever they delete some files they think that they have permanently deleted them but it is not true.
By default, deleted files get automatically stored in the Recycle bin. Do you know that the Recycle bin has limited space and it is also part of your system drive. Therefore, Stored files in the Drive will create pressure on your PC which will eventually slow down it.
Tips: Press the Shift + Delete key altogether to permanently delete the file, then it will not store in the recycle bin.
Related Post: [ Shortcut of Run command ]
Restart Your PC
By restarting your pc basically, you free up your RAM. You install applications in your hard drive or in SSD but when you open it, it opens in RAM. Therefore, if you are facing a lagging problem or a slow pc problem then you can try restarting your computer. However, it is not a perfect solution but in some situations, it works.
Author Advice
In this article, I gave you my applied methods on how to speed up Windows 10.
All the above methods are tested by myself and it really works. You can use any method to achieve the maximum output from your PC. But all these improve the performance of existing hardware, it is not going to change the configuration of your computer.
Therefore, if you really want to do something then you should buy an SSD (Solid State Drive) of at least 256 GB if you can afford it.
SSD is much faster than our traditional mechanical drive or Hard Disk.
Hii there, I am Shivam Kumar. Pursuing my B.tech degree in computer science. A computer geek, and founder of Tech Giant.